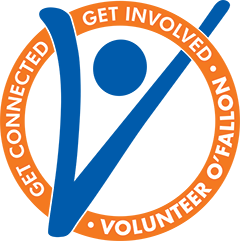 Volunteer Services coordinates the volunteer efforts of citizens interested in helping their community grow through personal involvement. Volunteers enhance City-sponsored activities, programs, and events by providing additional support, helping to ensure their success.
Volunteer service benefits not only individuals, but the entire community. Senior citizens, high school and college students, families, stay-at-home parents, and others with an interest in community service can choose to volunteer their time and talents. Volunteering can also help students make career choices and fulfill service hour requirements.
Many of your neighbors already perform some type of volunteer service. And, as our events are community-focused, volunteers do not need to be residents of O'Fallon to participate in the program.
Opportunities Application Student Application
---
Contact Volunteer Services staff
| | | |
| --- | --- | --- |
| Kathy Halstead, Volunteer Services Manager | This email address is being protected from spambots. You need JavaScript enabled to view it. | 636-379-5507 |
| Megan Taylor, Volunteer Coordinator | This email address is being protected from spambots. You need JavaScript enabled to view it. | 636-379-5408 |
| Katie Jordan, Administrative Assistant | This email address is being protected from spambots. You need JavaScript enabled to view it. | 636-379-5417 |
Connect with Volunteer Services on social media
---
O'Fallon Volunteers in the Community
Visit Volunteer Services' Flickr page for more photos.