Adopt-a-Street Program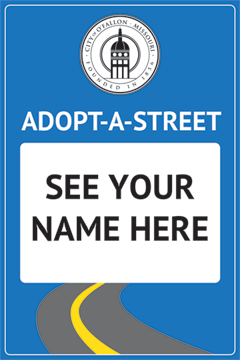 The City of O'Fallon's Adopt-A-Street program recognizes the commitment of volunteers to keep our city's 700+ miles of roadways free from litter and debris. Our goal is to prevent litter from reaching our waterways, increase public awareness and provide an opportunity for positive community support.
Volunteers are requested to adopt a minimum of 0.5 miles of streets, and are required to participate for at least one full year and conduct litter clean-up at least four times within said year. Adopters will be recognized on two Adopt-A-Street signs posted on each end of the adopted street segment.
Individuals, families, community groups, businesses, schools, service clubs, and church groups are invited to participate. Adoption is renewable annually, given that program requirements are met.
Please note, this program is not intended as a means of providing a public forum to use in promoting name recognition or political causes.
---
Adopting a Street Made Easy!
Adopt a street in O'Fallon in three easy steps.
---
Contact staff