Sewer Lateral Insurance Program
The City of O'Fallon offers a Sewer Lateral Insurance Program that provides assistance for the repair of the sewer laterals that connect each residence to public sewers. The program covers all residents of the City of O'Fallon and is administered by O'Fallon Water and Sewer. The program is funded by residents through a $30.00 annual fee that is paid when you pay your property taxes.
Typical Residential Water and Sewer Connections
Click image to enlarge the illustration.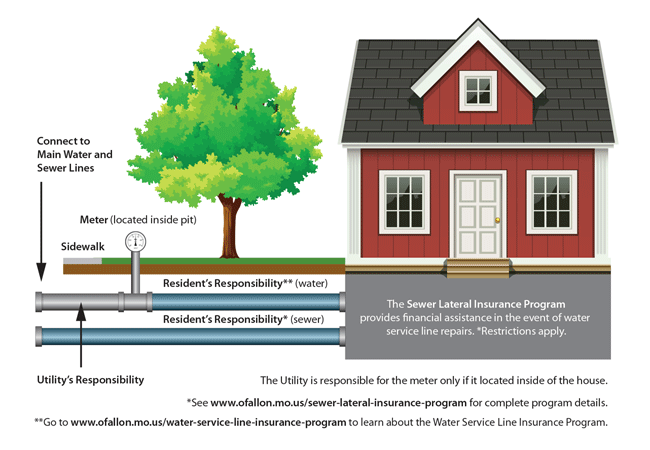 ---
What do I do if I think I have a problem?
The first step is to submit the application and hold harmless agreement along with your last year's paid Real Estate tax receipt, and a $400.00 non-refundable application fee. The City of O'Fallon will perform a video inspection of the sewer lateral. The video inspection is needed to verify the nature and location of the defect.
To provide the highest level of service to our residents, the City has an in-house crew to perform all phases involved with the program. Services may include video inspection, lateral line location and repairs, if the defect is eligible under the program.
---
Application and Important Information
If you login to your account to submit an application or review the application, you will need to be in the "Development" section and not on the "Permit" section to find your application.
WATER/SEWER » Residential Sewer Lateral Insurance Program

Manage Projects
Pay Fees
Submit documents
Schedule an inspection
Review Progress
---
Eligible repairs
Repairs to private sewer laterals from the exterior building foundation wall to the public sewer main
Required street, sidewalk, or driveway pavement replacement
Yard repair
Permits and administrative costs
---
Ineligible repairs
Repair, relocation or damage to structures, retaining walls, swimming pools, sprinkler systems, electronic dog fences, and landscaping
Damage caused by sewer lateral backup
Damage caused by contractor's performance outside of scope of work.
Repairs or videos performed prior to applying into the program
---
What if the repairs do not qualify for the program?
If a defect is not eligible for the program, the application fee will be used to reimburse the contractor for the cleaning and inspection of the sewer lateral.
---
Contact Water and Sewer staff