O'Fallon's new O'Day Park features an outdoor amphitheater perfect for hosting these FREE events!
---
---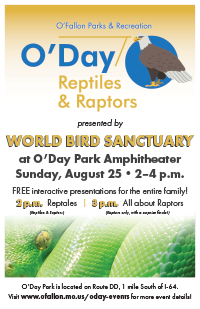 Reptiles & Raptors
Sunday, August 25
2–4 p.m., O'Day Park Amphitheater
The World Bird Sanctuary will be presenting Reptiles & Raptors, a close-up look at the unique animals that surround us.Interactive fun for the entire family!
2 p.m.: Reptales (featuring Reptiles and Raptors)
3 p.m.: All About Raptors (Raptors only, with a surprise finale!)
While leashed dogs are allowed at O'Day park, dogs will not be allowed at the Reptiles and Raptors presentation. Birds view dogs as a threat, and World Bird Sanctuary must adhere to this rule based on permits with US Fish and Wildlife Services to protect federally protected species.
---
Community Strong - Day of Play
Saturday, September 7
10 a.m. – 2 p.m., O'Day Park
Community Strong is a health initiative to improve the health and wellbeing of St. Charles County. They will be hosting a "Day of Play" at O'Day Park, featuring family-friendly games, live music for dancing, wellness education, and healthy food trucks to celebrate how we can all move one step closer to a healthier life through a playful mindset. To learn more and to register for this free event, click here.
---
Fall Into the Arts
Saturday, September 21
10 a.m. – 4 p.m., O'Day Park
Experience the beauty of art in the beauty of O'Day Park. View incredible works of art, listen to great music by Miss Jubilee and sample food and drinks from some of the area's best craft breweries and wineries. Learn more about the event here.
---
Plan a route to O'Day Park
1000 O'Day Park Drive, O'Fallon, MO 63668