If you need help with City Services, please call O'Fallon's Citizens First Center at 636-379-5553 or visit the online Citizen's First Center. For other needs, or other assistance programs, contact our partners Aging Ahead at 636-272-4180.
If you're a disabled resident or senior (65+),
you can file for 2018 utility tax rebates
If you are age 65 or older or a resident with disabilities and you'd like to recoup some of your City phone and utilities taxes, be sure to save copies of your 2018 gas, electric and phone bills, including your cell phone. With those in hand, you may be able to file for O'Fallon's utility tax rebates.
To qualify you must be (1) an O'Fallon resident who is 65 or older, or (2) you must be determined totally disabled by the Social Security Administration. And, (3) you must have an annual adjusted gross income of no more than $43,050 for a single head-of-household or $49,200 for a married (two-person) household. Social Security income is not counted.
If you qualify for the City's tax rebates on utility bills, you can file for the rebates at City Hall on weekdays beginning Monday, April 15, through May 31, 2019. City staff will assist you with filing from 9:00 a.m. – 4:00 p.m., Monday through Friday. You must file for your rebate in person and be sure to bring:
A photo ID with your O'Fallon address (driver's license, state ID or passport)
Copies of 2018 bills for gas, electricity, home phone and cell phone service (bills must show an O'Fallon address)
A copy of your 2018 federal income tax return
Proof of Social Security disability, if you are disabled
You can help speed the filing process by picking up a rebate form at City Hall or online (download here). For more information, contact the Citizens First Center at 636-379-5553.
---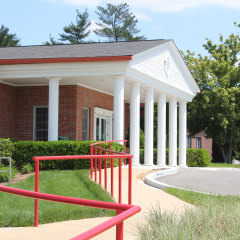 O'Fallon Senior Center
106 North Main Street
636-272-4180
www.agingahead.com
If you are age 60 or older, please visit O'Fallon's Senior Center, where a welcoming atmosphere awaits seniors who'd like to socialize over Bingo, crafts, billiards, dice, card games like pinochle and bridge, Wii games, and other activities. Computer and fitness classes also are available. Delicious hot lunches are served for a donation of $4 per meal; make a reservation by calling the day before.
Operated by Aging Ahead, O'Fallon's Senior Center is open Monday through Friday, 9 a.m. – 3 p.m. The menu and activities change daily.
---
Other resources