Community Emergency Response Team (CERT)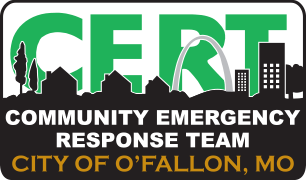 O'Fallon's CERT courses offer emergency response tips and tools for residents. There is no cost to attend the course. The next three-day session begins April 1, 2022.
Courses are held on Friday (6–10 p.m.), Saturday (8 a.m. – 5 p.m.) and Sunday (8 a.m. – 5 p.m.) at the O'Fallon Justice Center. You must attend all 2½ days. Attendance greater than 90% is required to pass the course.
---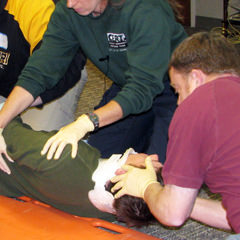 The Federal Emergency Management Agency (FEMA), using the model created by the Los Angeles City Fire Department, began promoting nationwide use of the Community Emergency Response Team (CERT) concept in 1994. Since then, CERT's have been established in hundreds of communities.
CERT training promotes a partnering effort between emergency services and the people that they serve. The goal is for emergency personnel to train members of neighborhoods, community organizations, or workplaces in basic response skills. CERT members are then integrated into the emergency response capability for their area. If a disastrous event overwhelms or delays the community's professional response, CERT members can assist others by applying the basic response and organizational skills that they learned during training. These skills can help save and sustain lives following a disaster until help arrives.
CERT skills also apply to daily emergencies. CERT members maintain and refine their skills by participating in exercises and activities. They can attend supplemental training opportunities offered by the sponsoring agency and others that further their skills base. Finally, CERT members can volunteer for projects that improve community emergency preparedness.
Eligibility
People from all walks of life are eligible to attend the CERT program, including concerned citizens, Neighborhood Association members, Civic Organization members, college students, potential police applicants, factory workers, independent business people, city and county workers, Neighborhood Watch members, and many others.
Requirements
Persons interested in attending the CERT Program must live, work or attend school within St. Charles County
Persons Must be at least 18 years of age, have no prior felony convictions, have not been a suspect in a crime involving moral turpitude, have no involvement in criminal behavior or have police contact believed to compromise the integrity of the O'Fallon CERT Program or the O'Fallon Police Department and have no outstanding warrants
The O'Fallon Police Department reserves the right to disqualify any applicant as a result of information discovered during the background investigation
Applicants must provide two personal references
The application requires that the Applicant must sign before a Notary Public. The O'Fallon Police Department has Notary Service available Monday through Friday from 8 a.m. – 5 p.m., free of charge.
---
Sign-up for O'Fallon CERT
Register now for the next O'Fallon CERT class and learn how you can help in the event of an emergency. The class will be held April 1–3, 2022, (Friday 6–10 p.m., Saturday 8 a.m. - 5 p.m. and Sunday 8 a.m. – 5 p.m.) at the O'Fallon Justice Center, 1019 Bryan Road.
Community Emergency Response Team (CERT) application (PDF)
---
Office of Emergency Management