Due to the COVID pandemic, O'Fallon Safety Town is unable to offer the usual number of sessions. The first session that was offered quickly filled. A second session, with both morning and afternoon classes, has been added for July 1–10, 2020. A link to register for both classes can be found below. Registration is open to O'Fallon residents, only. With fewer sessions available, non-residents cannot register this year.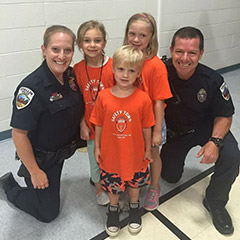 O'Fallon Safety Town is a nationally accredited child accident prevention program that introduces safety awareness and preventive procedures to children, ages 4½ through 6½ years old. The program uses a simulated city layout, a classroom facility and an off-campus field trip.
Under the guidance of police officers, a certified teacher, paramedics, firefighters, railroad police and trained volunteer staff, children experience "real life" situations. In accordance with their age and maturity, children are taught to evaluate "safe from unsafe" and how to react safely when confronted with dangerous situations.
Safety Town is the foundation of safety education, and it is the only time in a child's life that they will have an opportunity to attend a program exclusively designed to teach safety.
---
2020 Program and Registration Information
Children attend Safety Town for two weeks, Monday through Friday, and may be enrolled in either a morning or an afternoon class. This year, we will be conducting two sessions of the annual program from July 1 through July 10 and July 13 through July 24 (session is filled). We will offer the same programming as we have in the past, but with additional safety precautions in place to follow the current health department guidelines and recommendations.
When you register, please identify the session (morning or afternoon) for which you are registering your child.
2020 Session dates: July 1–10 and July 13–24 (session is filled)
Morning classes are 9–11:30 a.m.; afternoon classes are 12:30–3 p.m.
*In the event that future health guidelines prevent this program from occurring, Safety Town may be rescheduled or canceled. If it is canceled, all registration fees will be refunded.
Please register early!
This year there will be a maximum of 40 morning slots and 40 afternoon slots. With the limited availability, we are also limiting enrollment to O'Fallon residents and first-year attendees. Only children who have never attended will be selected.
2020 Safety Town registration will be ONLINE ONLY. Registration for the second session is now open for O'Fallon residents. Non-residents will not be accepted into the program this year.

A link to the registration page will be posted here on June 8, or you can register at that time by visiting www.renaudcenter.com and selecting the Register for Programs button at the top of the page.
Please note: Unless you have registered for an O'Fallon Parks and Recreation program in the past year, you will need to set up an account with the online registration system. You may do so in advance or at the time of registration.
Session I: July 13–24 Morning (9:00–11:30A) course code:

141412-E (session is filled)

Session I: July 13–24 Afternoon (12:30–3:00P) course code:

141412-F (session is filled)

Session II: July 1–10 Morning (9:00–11:30A) course code:

141412-C

Session II: July 1–10 Afternoon (12:30–3:00P) course code:

141412-D
Scholarship opportunities
For this year's program, O'Fallon Kiwanis Club is going to provide a limited number of scholarships. These scholarships will allow a limited number of children to participate in the 2020 Safety Town Program who wouldn't be able to participate without this opportunity. These children will receive a slot in their selected session before registration opens to the public. If you are interested in learning more about this scholarship opportunity please contact Officer Bob Schoonover at bschoonover@ofallon.mo.us or 636-379-5833.
Safety Town 2020 Application for Scholarship (PDF)
---
Plan a route to Progress South Elementary School
Program Location: Progress South Elementary, 201 Knaust Rd, St Peters, MO 63376