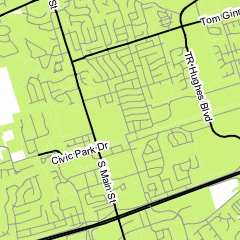 The following O'Fallon maps are provided by the Planning and Development Department. Please call 636-240-2000 for more information.
Other resources
---
Interactive GIS Map
Some layers of the mapping system are featured in order to help provide some basic information to the public. Please note that the locations of the objects within this mapping system should be used for reference only. Field verification of the data may be needed. As well, some data may not be published for security reasons.
---
Additional maps (as well as those listed above) are also available in the Comprehensive Plan (PDF); however, the maps listed above are the most recent.
Maps in the Comprehensive Plan include:
St. Charles County
O'Fallon City Limits
Community Resources
O'Fallon Wards
Educational Facilities
Emergency Services
Utility Locations
Water Districts
Watershed Areas
Sewer Districts
Five-year Road Plan
Throroughfare Plan
Public Trail Map
Future Land Use Map
Zoning Map
Index Grid for Future Land Use/Zoning maps