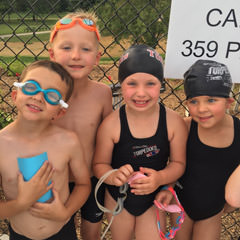 Alligator's Creek Aquatic Center is home of the O'Fallon Torpedoes Swim Team. The Torpedoes season runs from late May to August. Swim meets are held on Monday evenings throughout St. Charles County.
The O'Fallon Torpedoes compete in the St. Charles County Summer Swim Team League, and host several meets throughout the summer. For the swim team to operate smoothly, all parents are asked to volunteer their time throughout the season. All parents are required to volunteer at swim meets.
To be eligible for the Swim Team, swimmers six and under must be able to swim one length of the pool without touching the bottom of the pool or grabbing onto the lane line or wall. Swimmers ages 7–18 should be able to perform the basic swim strokes and be able to swim two lengths of the pool using both strokes.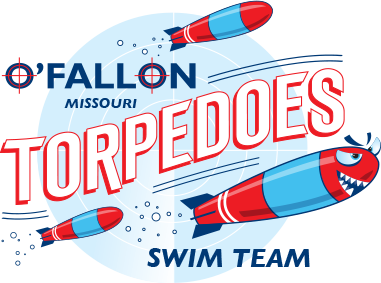 2020 Meet Schedule
June 15, June 22, June 29, July 13, July 20 and July 27
Practice Schedule
Ages 8 and under
Wednesday and Thursday mornings: 10:00–10:40 a.m.
Monday*, Tuesday, Wednesday and Thursday evenings: 6:10–6:50 p.m.
Ages 9–12
Wednesday and Thursday mornings, 9:00–10:00 a.m.
Monday*, Tuesday, Wednesday, and Thursday evenings, 6:50–7:35 p.m.
Ages 13 and over
Wednesday and Thursday mornings, 8:00–9:00 a.m.
Monday*, Tuesday, Wednesday, and Thursday evenings, 7:35–8:20 p.m.
Other resources
*Monday evening practices will be held on the evening with no meets
Please note: Swimmers may be asked to swim with another practice group. Call the RainOut line at 636-333-9900 ext. 9 if unsure about the weather
Coaches and League Representatives
Head Coach, Paige Schimmel
Assistant Coaches, Kayla Tiemeyer, Mia Karpa, Sam Atienza
Picture Information
Tuesday, June 16 at 6 p.m.
Swimmers should wear their team swimsuit or a plain black swimsuit for pictures and be ready as soon as they arrive. An individual photo and a team photo will be taken. All swimmers are expected to be in the team picture. More information on team pictures will be available at the parent's meeting.
---
Contact Us