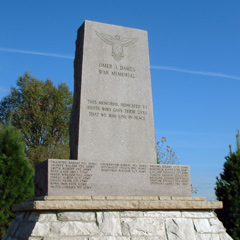 Among the first in the nation to honor U.S. soldiers killed in the Vietnam War, the Omer J. Dames War Memorial was erected by the O'Fallon Jaycees in 1969. The memorial was originally placed in Civic Park, where it was dedicated on September 21, 1969, to World War I veteran and Missouri legislator Omer Dames.
In 2003, the memorial was restored by the City of O'Fallon, moved from Civic Park to Dames Park on land that had belonged to the Dames family, and re-dedicated by the O'Fallon Jaycees on Veterans Day, November 11.
The inscription reads: THIS MEMORIAL DEDICATED TO THOSE WHO GAVE THEIR LIVES THAT WE MAY LIVE IN PEACE.
The memorial lists the names of 17 St. Charles County soldiers who perished in Vietnam.
---
Plan a route to Dames Park
387 Dames Park Drive, O'Fallon, 63366