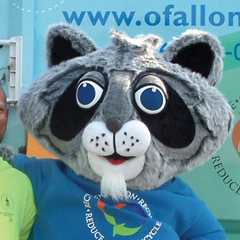 Meet O'Fallon's favorite furry resident, ROSCOE. Look for him at City events and in your school! Kids (and adults, too), email ROSCOE at This email address is being protected from spambots. You need JavaScript enabled to view it..
NAME - ROSCOE Raccoon
ADDRESS - My private tree hollow near O'Fallon's Transfer Station
HOMETOWN - O'Fallon, Missouri
BIRTHDAY: April (Earth Day)
JOB: O'Fallon's recycling mascot, to encourage humans in O'Fallon to recycle
How did ROSCOE get his name?
O'Fallon's Recycling Committee held a contest and the winner was 10-year-old Kirsten Low, who submitted ROSCOE, which stands for Recycling Our Supplies Conserves Our Earth.
Does Roscoe visit local schools?
Why did the City get a recycling mascot?
The City wants to encourage residents to recycle, for several reasons – first, because recycling ultimately will help preserve our environment, today and tomorrow. Second, because recycling helps the City to keep trash collection costs down. O'Fallon pays $27 per ton of trash sent to the landfill. But O'Fallon gets paid $15.15 per ton of recyclables.

Having a mascot who can visit schools and other organizations, and appear at special events, helps with the City's efforts to promote recycling.
Does recycling cost any extra?
No. If you are a resident and a regular customer of O'Fallon's trash service, you can sign up for recycling absolutely free! The City will provide you with a container to use for your recyclables.