Chief Tim Clothier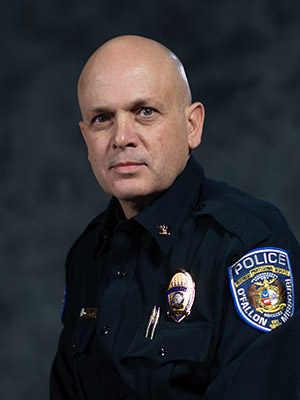 Chief Tim Clothier became the Chief of Police for the City of O'Fallon on May 28, 2019. Prior to joining the ranks of the O'Fallon Police Department, Clothier served as the Chief of Police for the City of Ozark, Missouri, Police Department for nearly four years. The City of Ozark has a population of around 20,000 with 33 commissioned member police department.
Prior to joining the ranks of the Ozark Police Department, Chief Clothier was a police officer holding the rank of Major with the Owensboro, Kentucky, Police Department, located in northwestern Kentucky. The City of Owensboro has a population of 58,000 with 108 commissioned officers. Clothier started his civilian law enforcement career in 1991, by joining the Owensboro Police Department. Clothier has had a very diverse, progressive career; he spent time as a patrol officer, detective, Major Case Detective, Patrol Sergeant, supervised the Narcotics Unit, advanced to Lieutenant, commanded the Criminal Investigations Division, and held the position of the Accreditation Manager. Clothier retired from the Owensboro Police Department as a Major, October 1, 2015, after 24+ years of service and immediately assumed the role as the Chief of Police for the City of Ozark.
Chief Clothier previously served as a board member for the COMET Drug Task Force, Christian County 911 Emergency Services, Christian County's Law Enforcement Restitution Fund Board, Auditor/Assessor for the Missouri Police Chief's Charitable Foundation, and was selected as one of the Springfield Business Journal's "Men of the Year" in 2018. Chief Clothier is also a former adjunct professor/instructor for the Drury University Law Enforcement Academy (Springfield).
Chief Clothier holds an Associate of Science degree from Owensboro Community and Technical College, a Bachelor of Science from Kentucky Wesleyan College, and a Master of Science with an emphasis in Police Administration and Crime Prevention from the University of Cincinnati. Clothier is a graduate of the F.B.I.'s National Academy, Kentucky's Department of Criminal Justice Training's Academy of Police Supervision and Criminal Justice Executive Development. Chief Clothier is an active member of the Missouri Police Chief's Association, International Association of Chiefs of Police and the F.B.I National Academy Associates. Chief Clothier currently serves as a board member for the St. Charles County Regional SWAT Team and the St. Charles County Drug Task Force.
Prior to starting his civilian law enforcement career, Clothier served our country for four years in the United States Marine Corps and obtained the rank of Sergeant. While in the Marine Corps, he served as a Military Police Officer and Presidential Support Specialist. Clothier was assigned to the White House Military Office and worked as a Presidential Security Guard under former Presidents Ronald Reagan and George H.W. Bush.
---
Timeline of Law Enforcement Officials
1856 – O'Fallon's founding resident, business owner, postmaster and railroad agent Nicholas Krekel was probably the first file for the office of county sheriff, as well. As far as we know, he didn't win.
1856 – 1959 – As in other townships, everyday peacekeeping fell to appointed town constables and marshals. Glennon Obrecht, William "Bill" Steiner, Sr., and Clinton "Bud" Prinster served as City Marshals.
1959 – O'Fallon's police force turned professional with the hiring of Police Chief Rich Wilson.
Early 1960s – Russ Carter, a local shoe repairman, became the first elected rather than appointed City marshal.
Early 1970s – Bud Stevens is elected City marshal.
1975–1981 – Roy Thomas is elected Chief of Police.
1977–1980 – Tom Anderson serves as Police Administrator for approximately eight months, followed by Mike Bragg.
1981–1991 – Dan Granger was named the City's first full-time Chief of Police
1985 – O'Fallon's Safety Town program officially begins with a two-week, 25-hour safety course designed to promote basic safety skills for young children at home, school or play.
1991–1995 – Mike Kernan serves as Chief of Police
1995–2005 – Steve Talbott serves as Chief of Police
2005–2009 – Jerry Schulte serves as Chief of Police
2009 – William Seibert serves as Interim Chief of Police
2009–2018 – Roy Joachimstaler serves as Chief of Police
2019 – Gary George serves as Interim Chief of Police
2019 – Tim Clothier named as Chief of Police