To contact the City about Snow Removal operations, call the City's Streets Division at 636-379-3808 and 636-379-3807 or email them at This email address is being protected from spambots. You need JavaScript enabled to view it.
When it snows, City of O'Fallon crews work around the clock to get motorists moving as quickly as possible by efficiently clearing more than 700 "lane miles" of pavement and 1,100 cul-de-sacs. For safety's sake, always stay clear of snow plows. In general, the City has designated 14 zones or routes and will place 1, 2 or 3 snow plow drivers in each of these routes depending on the severity of the storm. The crews will work in 12 hour shifts day and night until the job is completed. During full scale operations, each 12 hour shift can have up to 46 drivers (92 total drivers).
The 2 best things residents can do to help in the snow removal effort is to first move any parked cars off the street out of the way of snow plows and emergency vehicles and second not travel out onto the roads until they are completely clear.
Snow removal operations during the storm and after the storm are different.  During the storm, crews will constantly cycle through their assigned streets trying to maintain at least one clear path (room for one car width) on the streets. After the storm, drivers will first establish that clear path on all their assigned streets; then, begin a process of widening this to get a clear path for two-way traffic. Then, will continue the widening to get the pavement cleared close to the curbs on both sides of the street. You should expect that the plows will come down your street many times until the job is done.  After the streets are cleared close to the curbs, drivers will go into a clean-up phase where they will go around and improve areas that were not done well earlier. At this point they will also be cleaning up intersections and cul-de-sacs.
The goals of snow removal operations are to have Collector and Arterial Streets cleared for two-way traffic within 6 hours of the end of the storm and to have a clear path (the width of one car) on all residential streets within 12 hours of the end of a storm. The widening out of streets and clean up phase will continue 24-36 hours after the end of a storm.
The City's Snow Plow personnel are required to attend yearly training on refreshing their snow plow skills, as well as learning their snow plow routes every October.
Snow and Ice Control Policy (PDF) - View definitions, priorities and procedures for managing snow and ice in O'Fallon
City ordinance (PDF) - Park off of the street, deposit snow on lawns, keep all objects clear of the roadway (10 feet off of the street)
Still have concerns or questions? Call the City's Street Division at 636-379-3808 and 636-379-3807 or email them at This email address is being protected from spambots. You need JavaScript enabled to view it. . Or, when the City declares a citywide Snow Emergency.
---
Important Information for when it snows
What roads are cleared by the City of O'Fallon's crews?
The City of O'Fallon is responsible for clearing most streets in O'Fallon's City Limits, including major thoroughfares such as Mexico Rd, Feise Rd, and Bryan Rd.
However, several Interstate and State Highways bisect O'Fallon, including I-70, I-64, Hwy. K, Hwy. N, Hwy. 79, Hwy. DD, South 364 Outer Road, Technology Drive, East and West Terra Roads some parts of Veterans Memorial Parkway. These roads are controlled by the State of Missouri and are the responsibility of the Missouri Department of Transportation (MoDOT). The City of O'Fallon cannot clear these areas. If you have questions or concerns about these roads, please contact MoDOT at 1-888-ASK MODOT (1-888-275-6636) or 314-275-1500.
How can I keep my driveway and mailbox from being snowed-in by plowing?
Unfortunately, there is no perfect solution to preventing snow from being plowed up to your mailbox and driveway, but you can minimize the possibility.
Make room for snow discharged by plows by clearing the snow from the end of your driveway and along your curb, especially the area to the left of your driveway, when facing the street from the front of your house.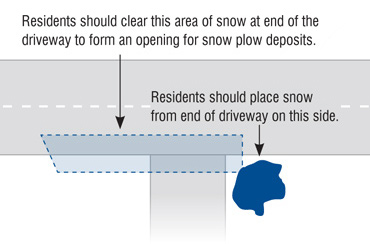 Which streets are cleared first?
Snow removal personnel are dispatched to residential areas when snow begins to accumulate; however, the City puts an emphasis on clearing major thoroughfares – Mexico Rd, Feise Rd, Bryan Rd. etc – first.
I see neighbors and some businesses clearing driveways and pushing the snow back onto the street. Can I do the same?
The City has the daunting task of clearing nearly 700 lane miles of streets and 1,100 cul-de-sacs after a winter storm. Homeowners or businesses who push snow back into the street make this task even more difficult, increasing the time and cost of snow removal. Additionally, placing snow in a public street is against City ordinance and may result in a fine.
I live on a cul-de-sac. How will the City deal with the snow on my street?
During light snow events (typically, less than 2–3" of snow): Crews push snow to the middle of the cul-de-sac, forming a pile in the center, allowing for a clear route around the cul-de-sac and easy access to driveways.
During heavier snow events (typically, 3" or more): NEW THIS WINTER! After last year's heavy snowfall, the City's Public Works team met with numerous residents who live on cul-de-sacs to make improvements that better serve the residents.
Due to the substantial amount of snow that can build up in cul-de-sacs during heavy snowfalls, these streets require additional snow removal efforts. When heavy snow hits, plows initially will create a passable lane through the cul-de-sac so residents can drive in/out of the street. Then, as other snow removal efforts wind down, crews will return to the cul-de-sac to move snow into available green space. With this new policy in place, crews will be able to focus on clearing O'Fallon's streets as quickly and efficiently as possible without inadvertently causing large snow windrows on cul-de-sacs, which inconvenience homeowners.
Will the City clean my sidewalk or parking lot?
The City cannot plow privately-owned streets or lots. Residents and business owners are required to keep their own driveways, sidewalks, mailboxes and private streets clear of ice and snow.
When I park on the street, my car gets buried by snow plows. What can I do?
By City ordinance, no street parking is allowed during winter weather events. No service will be provided if the crews feel they cannot safely plow your street because of parked cars or other obstructions.
Can I call to report an area that needs plowing?
Yes, O'Fallon's Snow and Ice Removal Center is put into action when the forecast calls for five or more inches of snow, and the snow has begun to accumulate. At that time, you can call 636-379-3826 between 8 a.m. and 8 p.m. for snow or ice removal questions or concerns.
For questions at other times, please call the City's Streets Division at 636-379-3808. Snow removal information also is posted on our homepage.
Is the City responsible for damage to my mailbox, decorative landscaping or basketball hoop?
If your mailbox or landscaping is damaged by a City-operated snow plow, please contact the City's Streets Division for repairs or replacements. Streets Division phone number 636-379-3808. Because O'Fallon's code prohibits basketball goals and other obstructions from the City's public right–of–way (mid-street to about 10 feet beyond curb), the City will not pay for any damage.
If I have an emergency, will the City plow my area first so an ambulance can get through?
Call 9–1-1 only in life–threatening emergencies; the dispatcher will contact the O'Fallon Streets Division should an emergency vehicle need access to a snow or ice covered street. For more information, call the Street Division at 636-379-3808.
How many miles of streets does the City of O'Fallon maintain?
The city has grown tremendously over the past 10 years. As of 2010, approximately 700 lane miles of streets are maintained by the City of O'Fallon.